3-Day Grand Canyon River Trip
I Have Have Been in Shark Cages With Great Whites and Seen the Northern Lights of Norway.
Scott M. - MA, United States | May 27, 2021
THIS WAS THE BEST MONEY SPENT ON A TRIP. A MUST-DO.
From flying in a small prop plane the adventure begins as the landscape is amazing... Landing on a runway in the desert, we board a helicopter (video attached) I have been lucky enough to have seen many places in this beautiful world, but this was by far the greatest.
Once aboard the raft, the scenery never stops and I was never sick of it. We took breaks on the river to do some cliff jumping (you don't have to jump if you scared, but you should!), to an amazing waterfall inside of a cave. The crew, RD, and Mark (hello guys! from the Boston boys: Scott, Jose, Kevin, and Tristin) were informative, sharing some of the canyon's history and its geology. They are super experienced professionals who make you feel safe and are ready to assist you in any way they can, we wish we could have had a beer with them.
The rapids were exciting even for us thrill-seekers, but they have places to sit if you're a chicken 😊 who doesn't want to get smashed with waves over the top. Camping at night was a treat as the sky is like a backlit canopy with holes punched in it. Such a clear and busy sky filled with stars.. and u slept directly under it. Food was always plentiful and good. I rarely write reviews but I think this is one of those times where I'm not writing it for Western Rivers, I'm writing it for you.. the people wondering if they should go. I SAY YES!!

Related Trips
Grand Canyon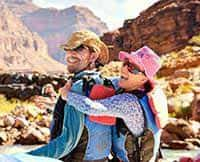 3 Day Grand Canyon River Trip
Raft 100 miles on the Colorado River through Grand Canyon.
Grand Canyon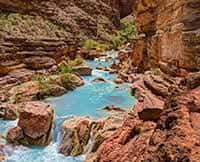 Grand Canyon 6-7 Day Vacation
A unforgettable journey of 188 miles from Lake Powell to Lava Falls.
Grand Canyon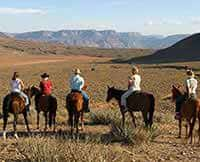 Grand Canyon 4 Day Tour
Combine your Grand Canyon rafting adventure with a day and night at a working cattle ranch.