6-7 Day Grand Canyon Vacation
Rafting the Grand Canyon Was Both an Incredible and Humbling Experience
Clay G. - AZ, United States | September 18, 2023
This was my third trip with WRE and my first in the Grand Canyon. It completed a trifecta of sorts for me. My first experience in the Canyon was a rim-to-rim hike (S Kaibab - N Kaibab) completed in a little over 9 hours. I was of course much younger and better conditioned. A few years later I had the privilege to fly the length of the Canyon in an F-16 (much of it upside down) courtesy of the 310th Fighter Squadron and 56th FW of Luke AFB.
The real star of the trip is the river and the canyon. I'm just a week removed from finishing the 7-day (6-night) expedition and am still in awe of the experience. It's more than a bit humbling to sit and stare at Canyon walls and the millions of years of history they represent. I couldn't help but think of JW Powell, the one-armed man who started it all. I could go on but will stop here. As has been said, the joy is in the doing of the thing.
The trip from booking to completion was seamless and to say well organized would be an understatement. I knew a little of what to expect thanks to my Desolation and Cataract Canyon trips with Western River. The guides Marc (TL), Steven, Josh, and Nick were great from start to finish. Everything from the fire lines to the food was top-notch. Great job WRE Team and thank you for making this incredible experience even better.

Related Trips
Grand Canyon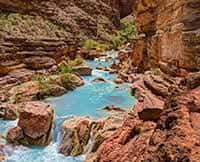 Grand Canyon 6-7 Day Vacation
A unforgettable journey of 188 miles from Lake Powell to Lava Falls.
Grand Canyon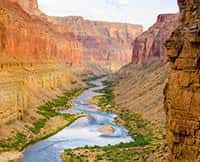 Grand Canyon Rafting Trips
Experience a 3 to 7 day expedition filled with whitewater excitement, spectacular waterfalls waterfalls and starry nights.