3-Day Grand Canyon River Trip
Incredible Rafting in the Grand Canyon
Dianne . - AL, USA | September 23, 2019
Treated like royalty. Plane ride - Helicopter - Bar 10, great fellow travelers, Great food! Beautiful night skies - milky way, constellations. What better experience could anyone have. Warm, but I'm from the South. Older and retired. A little (a lot?) out of shape - didn't matter - I was taken care of. If anyone has a hesitation, get over it. GO FOR IT. You won't regret it and will come back with a sense of accomplishment and awe.

Related Trips
Grand Canyon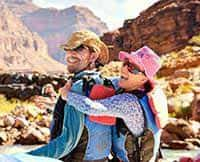 3 Day Grand Canyon River Trip
Raft 100 miles on the Colorado River through Grand Canyon.