Western's ​COVID-19 Mitigation & Operations Plan is in effect.
Incredibly Fun! – Grand Canyon 6 Day Rafting Trip
Bob . - TX, USA | August 29, 2019
From reserving the trip to the travel and pre-vacation information provided by Western River, everything was seamless and stress-free. The guides on the trip were fantastic, and I can't emphasize that enough. They kept the trip running smoothly, cooked tremendous meals, were extremely helpful, and provided information along the way that provided a framework for understanding the canyon and its history. It was simply a wonderful and unforgettable experience, and one that I will recommend to any family or friend who is interested in a trip they will never forget.
6-7 Day Grand Canyon Vacation

Related Trips
Grand Canyon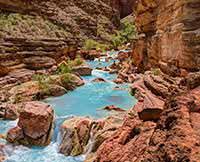 Grand Canyon 6-7 Day Vacation
A unforgettable journey of 188 miles from Lake Powell to Lava Falls.