3-Day Grand Canyon River Trip
It Really Was a Trip of a Lifetime!! Family Rafting Trip
Connie K. - MI, United States | October 1, 2020
My parents did a Grand Canyon rafting trip in the late 70's and I've wanted to do one ever since. In September of this year, 2020, my dream vacation finally happened. We had a group of 9 friends and family members and it was the most amazing and beautiful trip ever. We had wonderful guides; Wiley, Daniel, Derek, and Shad were knowledgeable, funny, and very helpful.
The plane ride, the helicopter ride, and the rafting were able to show us scenery we had never seen before, it was breathtaking! I had worried about the camping aspect of this trip, (I usually camp where there is electricity and flush toilets) but they really do have things figured out, we had no problems with the camping. The guides do all the hard work with just a little help unloading and loading the rafts, and once we got the cots put together it was easy.
I highly recommend this trip and my only suggestion is to read all the information and watch all the videos that Wester River has because it really does let you know what to expect. I felt I was ready for the experience which really helped me to relax and enjoy the ride.
I truly think it is the most beautiful place I have ever been. As Theodore Roosevelt said, "The Grand Canyon fills me with awe. It is beyond comparison—beyond description; absolutely unparalleled throughout the wide world... Let this great wonder of nature remain as it now is. Do nothing to mar its grandeur, sublimity and loveliness."

Related Trips
Grand Canyon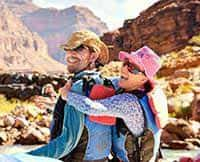 3 Day Grand Canyon River Trip
Raft 100 miles on the Colorado River through Grand Canyon.
Grand Canyon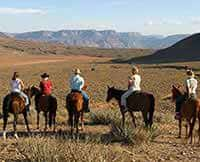 Grand Canyon 4 Day Tour
Combine your Grand Canyon rafting adventure with a day and night at a working cattle ranch.
Grand Canyon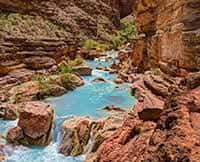 Grand Canyon 6-7 Day Vacation
A unforgettable journey of 188 miles from Lake Powell to Lava Falls.