Cataract Canyon 4-Day Trip
Cataract Canyon Rafting – It Was an Adventure. Great Staff
Todd . - CT, USA | August 30, 2019
It was an awesome trip. Great guides who were knowledgeable, interactive and great cooks. The above made it easy to get past some of the not so great stuff like the toilets. All in all it was a great Cataract Canyon Rafting experience. Keep up the good work.

Related Trips
Utah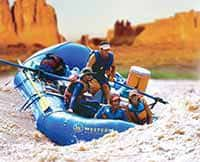 Cataract Canyon 4 Day Trip
Experience 4 Days through the heart of Canyonlands National Park.