Western's ​COVID-19 Mitigation & Operations Plan is in effect.
It Wars Fun on the River , Very Hard at Nite , My Back Will Never Be the Same . Lol
Gabriele . - NV, USA | August 22, 2019
Food was too spicy. I couldn't eat the chicken wings or the shrimp sauce. I'm from Germany and most people in Europa don't eat spicy food. They could have had the hot souse on the side. The employees were the best and helped me as much as i needed . I'm 71 in October and I had to do this Grand Canyon Rafting Trip. It was on my bucket list. Never believe it would be so hard. I won't do it a gain, but will never forget how great it was to be on the rapids. The people were nice but they were in there own groups.
3-Day Grand Canyon River Trip

Related Trips
Grand Canyon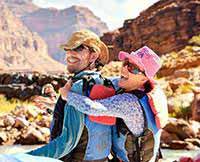 3 Day Grand Canyon River Trip
Raft 100 miles on the Colorado River through Grand Canyon.