3-Day Grand Canyon River Trip
Just Four Stars, Not Five – Grand Canyon Rafting
Dana . - WA, USA | October 3, 2018
The guides, rapids, and scenery were great! The avocado hummus dish and veggie spaghetti sauce were delicious but as a vegetarian I was still a little disappointed in the selection of food. The guides did their best to work with what they had though. I do not recommend this trip if you are a vegan. I also enjoyed the geology and history lessons but was discouraged to see so much beef served and no mention about how animal agriculture is impacting the river and canyon. Animal agriculture is the number one cause of climate change (with beef having the biggest impact) and fossil fuel combustion is number two. I gave this experience four stars but the only option available was to give it five stars. This makes me want to give three stars.

Related Trips
Grand Canyon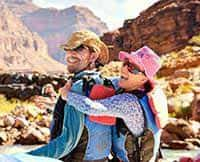 3 Day Grand Canyon River Trip
Raft 100 miles on the Colorado River through Grand Canyon.