Western's ​COVID-19 Mitigation & Operations Plan is in effect.
Kind of Fun
Michele . - UT, USA | July 27, 2017
I actually did the Westwater Canyon in a day, not the multi sport. The staff was great and friendly and fun and there was nothing wrong with the service. The drive up and back to the river is an 1 & 1/2 hours. Then once you are on the river it takes about another 1 hour before you get to rapids and then you have about an hour after the rapids before you get to land. Which I didn't expect so I thought that was disappointing. Then there is only 1 class 4 rapids and only 1 class 3 rapid the rest are smaller so I was disappointed in that because I was expecting a lot more higher class rapids.
Westwater Canyon Multisport

Related Trips
Utah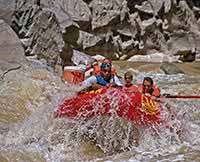 Westwater Multi-Sport Package
$685
per person