Cataract Canyon 4-Day Trip
Let Down
Lu . - FL, USA | July 8, 2019
The scenery was amazing and the guides for the most part were very caring and helpful towards the guests. They were great people however we had a couple of incidents that were a complete let down given what we paid for this trip.
the boat was dirty and muddy the whole time, sitting was uncomfortable, a guest cleaned it everyday after hikes with a bucket.
They did a lunch on a muddy area filled with mosquitos and no place to sit after a 2 hour hike.
They wanted us to camp in a very small area on 4th of July with another large group where we had no space or privacy. They claimed there was an issue with someone following their "reserved camping ground" and all camps were already taken We had to all give a stern complaint until they finally agreed to move us to another camp where it was empty. The ecological and conscious practices are horrible. Emptying out the water from the dishwasher with Clorox in the river where fish live is absurd, tooth paste rinse, soap, shampoo. That is completely irresponsible as a company to allow.
There was a constant abundance of food wasted. 6 steaks were thrown away due to cooking extra when they could simply have a head count of who wanted what meals beforehand to ration it appropriately. We were very let down by the consciousness of the company and how they handle their care for the planet.

Related Trips
Utah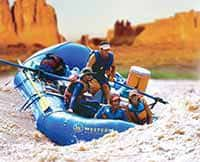 Cataract Canyon 4 Day Trip
Experience 4 Days through the heart of Canyonlands National Park.