6-7 Day Grand Canyon Vacation
A Lifetime of Memories From the Grand Canyon
Molly E. - OH, United States | July 5, 2023
My son turned 14 during our time in the canyon, sharing a birthday with one of our guides. We started the morning at Havasu (see photo) and ended the day with dutch oven birthday cake at camp (2 different kinds!). It will certainly go down as one of the most memorable of his lifetime. The entire week was spectacular, with a first-rate crew and pleasant, like-minded fellow travelers. Leaving 'canyon time' and returning to the world of alarms, hot showers, and calendar reminders is jarring and bittersweet. My son's final thoughts were of wanting to come back and bring his sister - high praise indeed!

Related Trips
Grand Canyon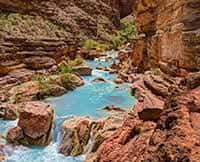 Grand Canyon 6-7 Day Vacation
A unforgettable journey of 188 miles from Lake Powell to Lava Falls.
Grand Canyon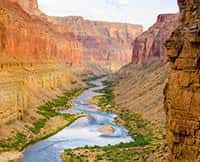 Grand Canyon Rafting Trips
Experience a 3 to 7 day expedition filled with whitewater excitement, spectacular waterfalls waterfalls and starry nights.