6-7 Day Grand Canyon Vacation
Living in God's Grandeur in the Grand Canyon
Peggy S. - Ca, Usa | June 21, 2023
From the moment of opening my eyes at sunrise to their closing beneath the starry sky, I got to live and breathe in God's glorious creation at every bend of the river, every glance up the cliffs, every encounter with my fellow travelers, Every splash of 48° water in my face, every waterfall, bighorn sheep, and perfectly carved 20 foot rapid! So grateful to a Creator who formed the rocks 1.5 billion years ago for us to enjoy! Humbled.

Related Trips
Grand Canyon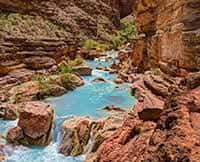 Grand Canyon 6-7 Day Vacation
A unforgettable journey of 188 miles from Lake Powell to Lava Falls.
Grand Canyon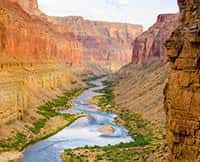 Grand Canyon Rafting Trips
Experience a 3 to 7 day expedition filled with whitewater excitement, spectacular waterfalls waterfalls and starry nights.