Cataract Canyon 4-Day Trip
Magical Experience on the Colorado River
Venkatesh . - GA, USA | July 8, 2019
Words cannot describe the experience of this Colorado River trip. It combines great white water experience with lovely hikes, floating through a geological natural wonder, camping under the stars and outstanding food. What makes it even more special is the friendly, hospitable and professional attitude of the staff. The attention to detail is excellent, we felt completely safe and well taken care of.

Related Trips
Utah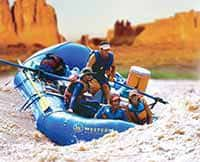 Cataract Canyon 4 Day Trip
Experience 4 Days through the heart of Canyonlands National Park.