Rogue River Lodge to Lodge Rafting Trip
Magnificent Rafting Trip
Charlotte . - Georgia, United States | August 2, 2020
Our Rogue River rafting trip was spectacular! This was my third trip with Western River. This float trip differs because you stay in lodges at night and you can choose a different type of boat each day. You can kayak, paddle in a raft, or just relax and take in the beauty of your surroundings. The rapids on the Rogue are smaller than the Grand Canyon or Cataract Canyon making this trip a wise pick for kids or for older adults.
Our superb river guides and the staff at the lodges were very aware of social distancing. A rafting trip in the great outdoors is a smart vacation choice in this crazy year. It was a real treat to get away, get unplugged for a couple of days and to have some fun!

Related Trips
Oregon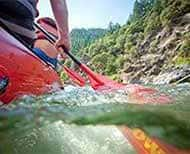 Rogue River Lodge to Lodge Trip
One of the most unique rafting vacations in the world. Astounding wildlife, scenery and historic river lodges each night.