4-Day Grand Canyon Tour
Grand Canyon Rafting – More Awesome Than We Could Ever Imagine
Les . - CA, USA | August 18, 2019
This was our first rafting trip and in anticipation of our Grand Canyon 4 Day Rafting trip we were calling it our, Epic Adventure. Thanks to everyone involved, our trip far exceeded our expectations. Everyone was so helpful, friendly and knowledgeable. We want to give a huge shout out to our Guides, Shad, Daniel, Emily and Newtie. They provided us with an unforgettable experience that we can't stop raving about to our friends. I had heard the food was good but never expected to feast as we did. The only soreness we have is from laughing so hard! Thank you Western River Expeditions for providing us with a team that not once ever let us down and enabled us to glean memories that will last a lifetime.

Related Trips
Grand Canyon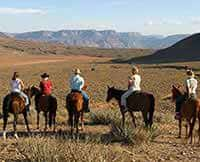 Grand Canyon 4 Day Tour
Combine your Grand Canyon rafting adventure with a day and night at a working cattle ranch.