4-Day Grand Canyon Tour
Most Incredible 4 Days of Our Lives! - Grand Canyon Rafting
Brenda F. - Florida, USA | July 10, 2020
This Grand Canyon rafting trip was a birthday / bucket list trip for my husband's 70th birthday and it could not have been better.
The entire experience was phenomenal! Yeah, we expected that the scenery in the Grand Canyon would be spectacular and that no picture would ever compare to what seeing it up close and personal provided, and that sleeping out in the open under the stars would be awe-inspiring no matter how many times we'd seen the night sky while camping in our home state of Florida. But who'd of thought that bathing in a 50-ish degree river would be something we enjoyed? Or taking a plastic cup along for a middle-of-the-night trip to the yellow tent? Or morning coffee call at 5am?
But the entire experience was incredible - from the moment we met in the lobby of the hotel on the first morning to the moment they dropped us back off at that same hotel 4 days later we could not have asked for anything more. We would not have changed one thing about the entire trip - not even the 5 am coffee. Western River Expeditions and the Bar 10 Ranch are a class act. Everything about this trip was executed flawlessly - if there were any issues or hiccups along the way they were certainly handled quickly, efficiently, and out of sight and sound of the guests on the trip. Everyone at the Bar 10 Ranch went out of their way to take care of us and ensure an exciting, fun-filled day.
Wiley and his crew are top notch! Everything about our time on the river from rafting, to camp set-up and tear-down, to meals and the fire line, was as as close to perfect as we've ever seen on any trip we've been on. We can't praise them enough for all that they did. At this stage of our lives we know we'll never again get to sleep in a Conestoga Wagon, ride in a helicopter, or sleep under the stars on the banks of the Colorado River.
We want to thank Western River Expeditions for an awesome great time and for providing us with 4 of the most incredible days of our lives.

Related Trips
Grand Canyon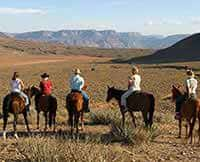 Grand Canyon 4 Day Tour
Combine your Grand Canyon rafting adventure with a day and night at a working cattle ranch.
Grand Canyon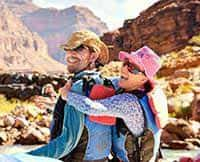 3 Day Grand Canyon River Trip
Raft 100 miles on the Colorado River through Grand Canyon.
Grand Canyon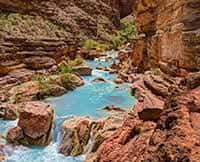 Grand Canyon 6-7 Day Vacation
A unforgettable journey of 188 miles from Lake Powell to Lava Falls.