Cataract Canyon 4-Day Trip
The Tranquility of Cataract Canyon
Dennis M. - Virginia, USA | May 14, 2021
Thank you Western for a trip that I will remember for the rest of my life. Our Captain, Dylan, and his crew provided an experience that will be hard to top. Your guides enjoyed learning about Wounded Warriors and stories from the Marines who spanned at least three generations (Viet Nam, Panama/Gulf War, and present-day Mid East). For an old Marine like me, this trip through Cataract Canyon was a time to rebuild a camaraderie with fellow Marines and dump the stress of working in Washington D.C. for a few days.
I rediscovered how the tranquility of the river and the serenity of nature help to recharge our internal batteries so we can meet our personal struggles with a clearer mind. As I said, this adventure will be a memory that lives within me for the rest of my life. Thank you again for being a gracious host for our trip.

Related Trips
Utah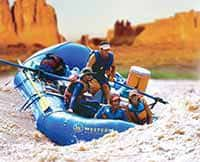 Cataract Canyon 4 Day Trip
Experience 4 Days through the heart of Canyonlands National Park.