Cataract Canyon 2-Day Express
What a Way to Spend My Birthday.
DEBRA N. - FLORIDA, USA | May 29, 2022
One more thing off the bucket list, to spend the night sleeping under the stars. Our guides Anne and Josh did such a fabulous job. They were knowledgeable and fun. What a great job you guys did. We had perfect weather and companions. I would highly recommend this trip. You do get a little wet by the way!!

Related Trips
Utah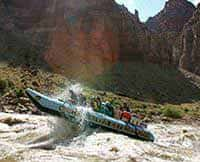 Cataract Canyon Express
Raft the 100 miles of Cataract Canyon in just 2 Days!