3-Day Grand Canyon River Trip
No Words Can Describe Our Grand Canyon Trip
Kay W. - NM, United States | October 8, 2021
Dear Western River Expeditions, In an attempt to adequately describe our trip I have composed this letter in my head dozens of times. My search for the words comes up short every time, but here goes.
WRE was stellar at planning, anticipating, providing for and keeping their guests informed. Your professionalism was evident every step of the way. Thank you for all you did to make us feel welcome, comfortable, and confident we were in the best of hands. Well done!
A special note about Joe and Jace, our guides: Joe and Jace managed to outshine the wonders of the canyon and the river with their skills and personalities. They MADE the trip! Both were warm, welcoming, funny, kind, patient, talented, careful, and consummate experts on all things.
Joe and Jace quietly went about seeing to our safety and comfort every hour of every day. And they did so with grace and patience. Somehow they managed to trust us all to follow their lead; we all happily did so because they are consummate leaders...and fun to follow.
For me, the highlights were their beautiful music and the poem Jace recited. I still choke up when I think of the last morning floating down the river. Motors, canyon and voices silent while Joe quietly played the harmonica. I can still hear Jaces' voice as he recites a poem (a sonnet, really) standing on the bow of the raft, the canyon walls unveiling before us. Without Joe and Jace, I'm certain our trip would not have been so wonderful, so epic, so endearing and so memorable.
Joe and Jace belong on that river, in that canyon. Their smiles said it all. They truly are at home there.
I have struggled to return to my normal routine because my perspective on this planet and my place upon it has changed forever.
My warmest heartfelt thanks to all.
Kay Willis

Related Trips
Grand Canyon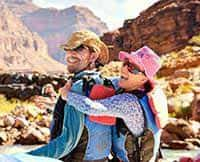 3 Day Grand Canyon River Trip
Raft 100 miles on the Colorado River through Grand Canyon.
Grand Canyon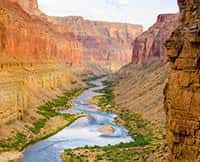 Grand Canyon Rafting Trips
Experience a 3 to 7 day expedition filled with whitewater excitement, spectacular waterfalls waterfalls and starry nights.