4-Day Grand Canyon Tour
Not as Advertised
JC . - MI, USA | July 3, 2019
This review will have two sections: 1) the river, and 2) the guides.
This is the second time we have used WRE for a rafting expedition, the first was in the Grand Canyon. The Cataract Canyon Classic 4 day does not live up to what is advertised. Yes, there is day 3 with 2-3 hours of white water, however, the rest of the trip is very very tame. The expedition features approximately 20 hours on the water, 2-3 in white water. The advertising (YouTube) suggests much more activity including waterfalls and back canyon hikes that did not take place. Overall, the river (including white water) is disappointing in comparison to the Grand Canyon.
Our crew was very inexperienced and at times I believe acted in an unsafe manner. For example, during one of the "floating days" the head crew leader suggested that the guests go for a swim. However, the crew leader apparently did not account for the current in the river, and as a result several swimmers were separated from the crafts by more than 500 yards. To put this in perspective, 10 people were outside the watercraft, 8 floated down river 500 + yards, while two guests were left up stream another 200+ yards (yes with the rafts in the middle), a very unsafe and scary situation that was out of control. Eventually, the crew leader had to separate the rafts and make a rescue in very cold water.
Finally, there was a lack of leadership during the entire expedition. We had issues with docking, safety, making sure that ALL family members were on the same boat.
From my perspective, the Grand Canyon guides and expedition are much better than Cataract Canyon expedition and guides. However, if you choose Cataract Canyon, consider going on two 2 day excursions vs one 4 day, you will experience much more white water.

Related Trips
Grand Canyon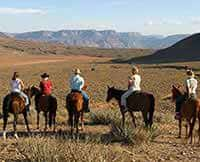 Grand Canyon 4 Day Tour
Combine your Grand Canyon rafting adventure with a day and night at a working cattle ranch.