6-7 Day Grand Canyon Vacation
Western River Expeditions Did Not Disappoint.
Jared D. - Ohio, United States | September 28, 2023
Words cannot describe the amount of joy, stress, excitement, and preparation that went into planning this trip. Western River Expeditions did not disappoint.
The trip started with some rain which made the first day a rough one. After that, it was nothing short of an experience of a lifetime. The four guides we had; Ben, Paco, Daniel, and Hank were phenomenal and honestly made the trip that much better. Between morning story time and surprise mud wrestling, this group truly loves their job. One could only imagine the amount of knowledge and skill it takes to keep a bunch of novice rafters free of harm.
There were several unknowns along this adventure due to the water level being the lowest it has been in 25 years. As a group, we were able to manage and reach the destination with only minor bumps and bruises. As our boat raced down the river one could only pretend what it would be like paddling a raft down into the once Great Unknown. The use of a motor did not mean it came with great ease. As a passenger you still needed to hold on tight and "Suck Rubber" as some put it to keep from being tossed overboard.
As the unknown soon became a norm the trip was over and the helicopter ride allowed you to see the canyon from a view very few will ever see. Rising above the canyon wall and looking back gives you a true "in awe" feeling realizing the magnitude and sheer size of this wonderful place.
To put an end to this drawn-out review, not too often can you meet a large group of people and be instantly connected whether it's being from the same state, enjoying the same beverage, or simply having the same life interests. To the ones on my raft, it was a pleasure to have met such great people and had the opportunity to share this great adventure with them. Off to the next adventure.

Related Trips
Grand Canyon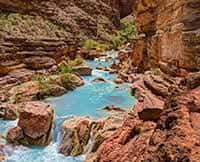 Grand Canyon 6-7 Day Vacation
A unforgettable journey of 188 miles from Lake Powell to Lava Falls.
Grand Canyon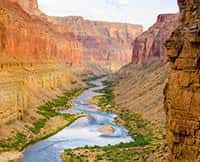 Grand Canyon Rafting Trips
Experience a 3 to 7 day expedition filled with whitewater excitement, spectacular waterfalls waterfalls and starry nights.