6-7 Day Grand Canyon Vacation
Once in a Lifetime, the Grand Canyon and River Are Truly Grand!
Richard . - NJ, USA | September 21, 2019
Cannot say enough. You do not need to comment on the grandeur, and power of the Canyon and the River, except to say, we are fortunate that man has been kept from destroying and commercializing this natural beauty. I never left the front of the raft, and that 8:30 AM wake up call of 50 degree water was a heart stopper, but what lay ahead was worth every drop.
The office staff, the crew, the food, the warmth, the help, the sharing of history, geology, canyon and river lore were second to none. The side hikes to water falls, crystal clear streams and pools, sleeping under the most magnificent blanket of stars untouched by any light other than a moon that could blind you with its intensity, was beyond anything you can imagine. Books, stories, and reviews can never duplicate what my wife and I experienced, (by the way we are both 70+, so don't let age stop you), you have to live it, and Wester Rivers can certainly do that for you. I give them a 15 on a scale of 1-10.

Related Trips
Grand Canyon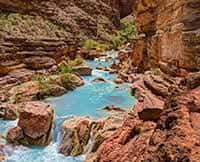 Grand Canyon 6-7 Day Vacation
A unforgettable journey of 188 miles from Lake Powell to Lava Falls.