4-Day Grand Canyon Tour
Once in a Lifetime Trip! Grand Canyon Tours
Christa K. - Texas, United States | September 14, 2020
This trip was everything I imagined and more!
My first time at the Grand Canyon, and I was able to sleep and live in the canyon for 4 days. The guides and ranch staff were incredibly kind, informative, and helpful. We felt totally safe (even with Covid-19 still very active) and we're able to meet other cool travelers. Food was good at every meal.
Favorite part of the trip: helicopter trip into the Grand Canyon and the Travertine Waterfall on day 2 of rafting. Thanks so much!

Related Trips
Grand Canyon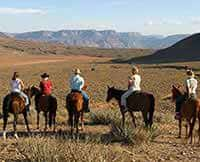 Grand Canyon 4 Day Tour
Combine your Grand Canyon rafting adventure with a day and night at a working cattle ranch.
Grand Canyon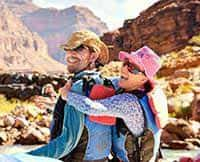 3 Day Grand Canyon River Trip
Raft 100 miles on the Colorado River through Grand Canyon.
Grand Canyon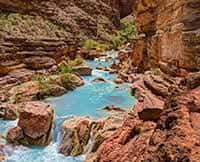 Grand Canyon 6-7 Day Vacation
A unforgettable journey of 188 miles from Lake Powell to Lava Falls.