3-Day Grand Canyon River Trip
One of a Kind Amazing Experience on the Grand Canyon
Mary M. - MA, USA | September 26, 2021
We just returned from our 3 day Grand Canyon river rafting and camping trip. I really wasn't sure what to expect despite seeing the online videos. I can honestly say it was an amazing experience from start to finish. I'm not exactly an outdoor campfire girl but by the time our trip ended I was a seasoned camper and white water rider!
The guides Shad, Micky, Mark, and Enzo were so knowledgeable and fun. I felt very safe and cared for throughout the trip. The meals they created were nothing short of miraculous and delicious given the circumstances. They worked tirelessly from sunrise to sunset in an effort to meet all our needs and make the trip as fun and comfortable as possible. The boat, although crowded with gear and passengers, was fantastic for rafting. Even in the biggest rapids I never felt unsafe.
You do have to be prepared to lose some of your modesty when it comes to bathing and toilet facilities. However, after the first day, you get over it, and in some weird way, it bonds you with the guides and other campers since we're all in the same boat. Seeing the wonders of the Grand Canyon down at the river level only illuminated its vastness and magical qualities.
All in all, it was a really fun spiritual experience, and Western River makes it safe, affordable, and fun for all. 😍

Related Trips
Grand Canyon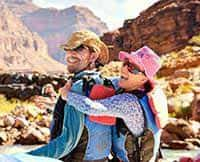 3 Day Grand Canyon River Trip
Raft 100 miles on the Colorado River through Grand Canyon.
Grand Canyon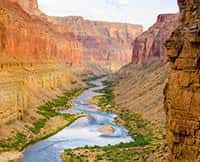 Grand Canyon Rafting Trips
Experience a 3 to 7 day expedition filled with whitewater excitement, spectacular waterfalls waterfalls and starry nights.