Cataract Canyon 2-Day Express
Our Cataract Canyon Guides Nick & Dan Were Awesome!
Patty . - NV, USA | July 5, 2019
The food they prepared was very GOOD, they even baked a cake !! (It was my daughter's birthday, therefore this was perfect!) The views were so breathtaking! Everything was really good! We could not have asked for a better group ! Thank you for everything!

Related Trips
Utah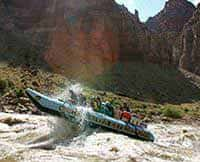 Cataract Canyon Express
Raft the 100 miles of Cataract Canyon in just 2 Days!