6-7 Day Grand Canyon Vacation
Our Second Grand Canyon Experience
Richard H. - New Jersey, United States | August 24, 2021
This review begins 11 years ago in June 2020 aboard boat J18D with guides Cash, Marty, Jorden, Justin and Wren. It was to celebrate milestone birthdays for my son and I. It was an experience to remember and a bonding event that brought my son and I closer together the ever before. We decided to do it again in 10 years.
Today I write about a trip that was to happen last year but delayed due to COVID. We were sad to cancel and rescheduled.
August 10 2021 began our current trip with guides Steve Wiley (TL), Dan, Stephanie, and Alex and and old friend waiting for us-- boat J18D. We knew there good things to come. Safety came first but Stephanie our boat driver was obliging our requests to hit the rapids fast and hard while Alex ensured all remained aboard. The food was fantastic and there was surely enough. Take the hikes, listen, learn, ask questions this will be a trip down river you will not forget.
Alex I apologize for not being able to remember exactly word for word but your story of us being compared to drops of water in the river of life touched me and all of us as we listened. I saw a few tears.
Thank you to the entire Western River family for providing not only a vacation but the ability for one to reset ones heart and belief in humanity
God bless all.

Related Trips
Grand Canyon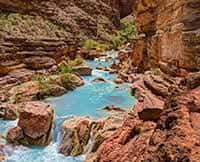 Grand Canyon 6-7 Day Vacation
A unforgettable journey of 188 miles from Lake Powell to Lava Falls.
Grand Canyon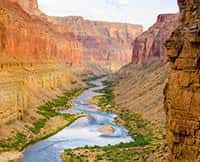 Grand Canyon Rafting Trips
Experience a 3 to 7 day expedition filled with whitewater excitement, spectacular waterfalls waterfalls and starry nights.