6-7 Day Grand Canyon Vacation
Outstanding Grand Canyon Adventure
Jack E. - AL, USA | May 11, 2017
All of the guides were outstanding. The group of guides worked continuously throughout the trip and they were always watching out for our safety. Food was excellent. Overall, I had the trip of my lifetime and I would certainly make the trip again with Western River Expeditions if possible.
Some concerns for your firm and future trips and future participants ----
Trip participants were not always under the watchful eye of the guides, it is not possible. But note, the following concerns.
1. Several participants when rock climbing at number of the stops. Fortunately, no injuries occurred. I paid for a rafting trip and one incident during the rock climbing and my trip would have stopped to provide care for an injured person - the trip agenda was at risk because of this behavior. If people want a rock climbing experience on a rafting trip - add it as an option on trips so I can select a different trip and not be impacted by an injury.
2. Also, children should be closely supervised. I witnessed a teenage trip participant leave the toilet and go directly to the food line without any hand washing. Another opportunity to have my trip ruined due to poor hygiene. Guides should stand at the food line and witness hand washing before people serve themselves.
3. The same teenager threw a rock (about 1-1/2 diameter) at me when I was drying off after bathing in the river. The rock struck my arm about 11 inches below my temple. I discussed the incident with the trip leader following the conversation I had with the boys father. The father was indifferent to the event's seriousness and I used my utmost restraint communicating my true feelings regarding the child's behavior with both the father and Wiley. The incident was totally beyond anything I could imagine and quite beyond the guides control. How can you prevent such behavior????? I was 11 inches away from a life threatening injury - it was not a pleasant experience. How about a NO ROCK THROWING RULE for the idiots. My parents helped me understand this rule before I reached the age of 4 years old.

Related Trips
Grand Canyon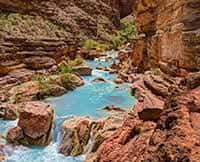 Grand Canyon 6-7 Day Vacation
A unforgettable journey of 188 miles from Lake Powell to Lava Falls.