6-7 Day Grand Canyon Vacation
Trip of a Lifetime!
J Kelly M. - CA, USA | August 23, 2021
I can't begin to express my gratitude for the hard work, dedication, knowledge, professionalism, and festive environment our guides afforded us on our 6 day trip down the Colorado through the majestic, Grand Canyon! Mark, Kelly, Paco, Emily & Kalao (guide helper on that trip) went to great lengths to keep us fed (boy were we fed), informed, entertained, stimulated (WOW...Hermit was a hoot!), and secure. For the guests, all is fun, food, nature, relaxation, memory making, and excitement.
For the guides, they're up before dawn making the Cowboy coffee, cooking breakfast, planning the day, loading/unloading, and preparing our adventures for the day. While we cruised through the Canyon's floor, sinking into older and older layers of rock, we were delighted with stories of folks who had passed the same way years before, their adventures and mishaps, geological information about the rock layers we were seeing...and sometimes a spontaneous dance party initiated by the guests and fully supported by the guides as they skillfully navigated through a field of happy camper/dancers!
Not all was lighthearted, as mother nature through in some very serious events, but Mark made sure we knew that we were safe as he informed us of events on the river not far from our campsite. His 30+ years of experience, along with decades of experience from Kelly, Emily & Paco, gave us confidence that we were in good hands.
Although it must have been highly emotional and stressful, knowing that our 32 lives were in their hands and Mother Nature does what Mother Nature does...they were skilled, professional, and compassionate. It was truly the trip of a lifetime...one that I didn't even know was a "for sure" bucket list item until after we experienced it. It just seemed like a great idea, and now it's with me forever as a WOW...that was AMAZING! Thank you Western River Expeditions and heartfelt thanks to Mark, Kelly, Emily, Paco & Kalao!!!

Related Trips
Grand Canyon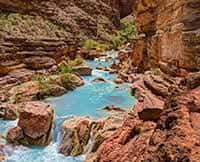 Grand Canyon 6-7 Day Vacation
A unforgettable journey of 188 miles from Lake Powell to Lava Falls.
Grand Canyon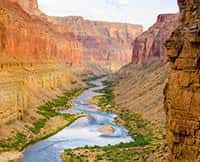 Grand Canyon Rafting Trips
Experience a 3 to 7 day expedition filled with whitewater excitement, spectacular waterfalls waterfalls and starry nights.