6-7 Day Grand Canyon Vacation
An Over The Top Amazing Grand Canyon River Trip
Alan P. - Utah, USA | September 17, 2021
I had pretty high expectations for this trip because I know others that have been on a Grand Canyon 7 day trip. But, this was absolutely Over The Top Amazing. It exceeded my expectations in so many ways. Great Guides, Fun People, Beautiful Scenery, Amazing Geology, Crazy History, and Fun Adventure.
Western did an amazing job with the Meals, the Safety, the Education and are top-notch "cat herders" in my experienced opinion:-) Newty, Justin, Rich & Aaron.....THANKS so much!

Related Trips
Grand Canyon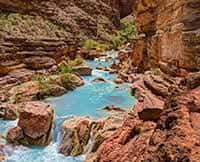 Grand Canyon 6-7 Day Vacation
A unforgettable journey of 188 miles from Lake Powell to Lava Falls.
Grand Canyon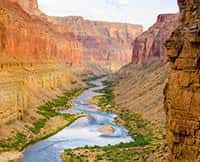 Grand Canyon Rafting Trips
Experience a 3 to 7 day expedition filled with whitewater excitement, spectacular waterfalls waterfalls and starry nights.