Rogue River Lodge to Lodge Rafting Trip
Perfect Family Vacation on the Rogue River
Laurie . - OR, USA | August 17, 2019
The Rogue River Lodge-to-Lodge river cruise was absolutely the perfect family trip. We had three generations in our group of seven people, as did the other family/friend group of 12. The scenery was gorgeous. The guides were fantastic, fun, skillful, knowledgeable and helpful. The lodges were just right with wonderful food. We stayed at Morrison's Lodge on the night before and the night we left the river. Good choice. Thank you for this memorable trip.

Related Trips
Oregon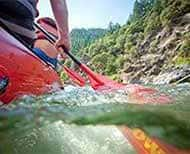 Rogue River Lodge to Lodge Trip
One of the most unique rafting vacations in the world. Astounding wildlife, scenery and historic river lodges each night.