4-Day Grand Canyon Tour
Sheer Perfection in the Grand Canyonn
Sandi B. - Tennessee, United States | September 17, 2021
Everything was perfect - from the airplane taking us to the North Rim/Arizona Strip and the Bar 10 Ranch to exit at Pearce Ferry. The experience was so different from anything I've ever done before, and it exceeded my expectations. The guides, Stephen & Enzo plus Scott & Micky on the other raft, were extraordinary.
The food was wonderful - I never thought we would have fresh fruit...but we did. Not to mention the warm cake Micky baked in a cast iron dutch oven. Scott played his guitar and sang my two favorite Avett Brothers songs (and did a great job!), making the last night extra-special.
Stephen and Enzo were both so very kind and helpful, answering lots of questions, and guiding us safely down the river. If I could leave tomorrow and go again, I would not hesitate. Thank you, Western River and guides - you all are the BEST!

Related Trips
Grand Canyon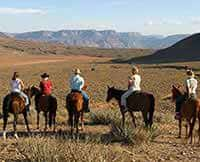 Grand Canyon 4 Day Tour
Combine your Grand Canyon rafting adventure with a day and night at a working cattle ranch.
Grand Canyon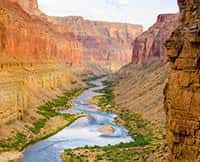 Grand Canyon Rafting Trips
Experience a 3 to 7 day expedition filled with whitewater excitement, spectacular waterfalls waterfalls and starry nights.