Costa Rica Vacation Package
Pacuare River Rafting in Costa Rica
Louis A. - string:PA, United States | February 25, 2020
Although the entire Costa Rica vacation was excellent, we consider rafting on the Pacuare River to be our personal highlight. We rafted the Grand Canyon with Western River four times on their large j-rig rafts, but this trip required us to row in a much smaller raft. It was a challenge for two people in their seventies and my wife went overboard in one of the class 4 rapids. (She was quickly pulled aboard by our guide, Ricardo). Nevertheless, we had a blast.
Western River has always provided a first class experience from our first trip in 1982 through our last in February, 2020.

Related Trips
Costa Rica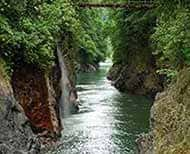 Costa Rica Vacation Package
Experience the legendary Pacuare River and a world-class, riverside eco lodge.