4-Day Grand Canyon Tour
Really Awesome Grand Canyon Rafting Trip
Greg . - UT, USA | June 21, 2019
My Grand Canyon Rafting Trip was awesome! I went with my brother and enjoyed it all. The flight from Vegas to Bar 10 Ranch got me a little queezy, but I made it through.
Bar 10 was a nice way to get situated and ready for an adventure. It was cool to watch people shoot skeet that had never held a gun before. One lady at the ranch got too close to the helicopter when it was landing and fell over.
The helicopter ride into the canyon was absolutely awesome. When you come over the canyons edge and drop in the thrill of the adventure truly begins.
The canyon was awesome too. The rafting was nice all 3 days. The last day got a bit hot and the rapids were over, but besides that the weather couldn't have been better.
If you want to get away from the world for a few days and enjoy the simple life with great food and fun people, then you have got to do this trip!

Related Trips
Grand Canyon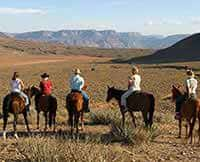 Grand Canyon 4 Day Tour
Combine your Grand Canyon rafting adventure with a day and night at a working cattle ranch.