4-Day Grand Canyon Tour
Record Heat Not Match for Top-tier Crew on This Trip Down the Grand Canyon
Soria . - CA, USA | August 1, 2023
I was extremely excited to be on this trip. On paper, it was the ideal way to tick off a bucket list item, take my brother who was retiring from a 30-year career in public service, and celebrate my wife's victory over cancer. What I was met with was a heat dome that made national news, and brought a thermal suffering I have only experienced in desert events in Black Rock City.
This made the Western River team the best part of the experience. Their leadership, guidance, and focus on our health and safety, enabled all the adventures to get the most out of the experience.
I left the river, reflecting on how present the team had to be throughout the entire time, keeping a watchful eye on us, and providing support ahead of it being requested.
Would I choose Western River again? Absolutely. Would I choose the Grand Canyon in July again? I'll check to see what's available in May... :)
All kidding aside, I suggest planning your trip if there is a new moon one night. The dark skies are incredible, and are only out matched in some of the remotest regions on earth.
Here's the Milky Way for your viewing pleasure.

Related Trips
Grand Canyon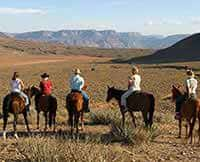 Grand Canyon 4 Day Tour
Combine your Grand Canyon rafting adventure with a day and night at a working cattle ranch.
Grand Canyon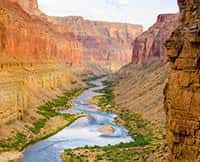 Grand Canyon Rafting Trips
Experience a 3 to 7 day expedition filled with whitewater excitement, spectacular waterfalls waterfalls and starry nights.