Western's ​COVID-19 Mitigation & Operations Plan is in effect.
Spectacular – Rogue River Rafting
Christine . - WA, USA | August 17, 2019
We had wonderful experienced guides who made an effort to get to know all guests and help them build community. After the first day the weather was perfect. Lodge rafting is the ultimate in luxury. I noticed many people, myself included, took on a little more challenge over the course of the trip. We also got information about the area and an introduction to flora and fauna.
Rogue River Lodge to Lodge Rafting Trip

Related Trips
Oregon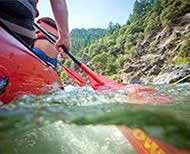 Rogue River Lodge to Lodge Trip
One of the most unique rafting vacations in the world. Astounding wildlife, scenery and historic river lodges each night.