3-Day Grand Canyon River Trip
An Unforgettable Grand Canyon Vacation
Jeff L. - Utah, USA | May 2, 2021
Don't do this trip...and here is why!
If you choose to travel with Western River Expeditions any future vacations will surely fall flat. Plan on vacations that will always leave you wishing you were still on the river.
Let's discuss some particulars:
Service - Ben, Newty, Ronnie and Mickey have raised my expectations of a level of service that going forward will always fall short. They are absolutely the cream of the crop. I sure hope our paths will soon cross again.
Food- The problem here is the fact that now I need to up my fitness regime. Delicious, plentiful and has left me needing to increase my daily dog walks threefold. That's not all bad...
Accommodations/Gear -The rafts and all gear were awesome, more than comfortable, and in great condition. For the folks that need a five-star hotel,....well I feel sorry for you!
Scenery - No need to discuss the beauty of the Grand Canyon as I would float down a dirty aqueduct with these folks.
Day three complaint! On the third day after floating down the river, we were loaded on a jet boat for the last hour of the trip. I found myself watching the empty rafts with our beloved guides, slowly floating away. A deep depression immediately set in as I realized the trip had come to an end. Thanks for Nothing!
In all seriousness, this was a once-in-a-lifetime experience. If you have any thoughts of trying this for yourself don't make the same mistake I did...Do the long trip and not the short one.
Ben, Newty, Mickey and Ronnie-THANK YOU!

Related Trips
Grand Canyon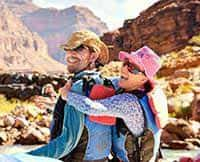 3 Day Grand Canyon River Trip
Raft 100 miles on the Colorado River through Grand Canyon.
Grand Canyon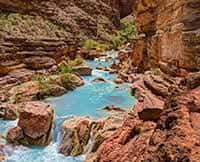 Grand Canyon 6-7 Day Vacation
A unforgettable journey of 188 miles from Lake Powell to Lava Falls.
Grand Canyon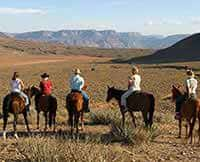 Grand Canyon 4 Day Tour
Combine your Grand Canyon rafting adventure with a day and night at a working cattle ranch.