Rogue River Lodge to Lodge Rafting Trip
The Beautiful Rogue - Oregon Rafting
Barbara C. - Iowa, USA | September 4, 2020
This was a great adventure vacation for our family with our two grown children and their spouses.
The rafting was fun, there was fine dining at the lodges, and the guide were excellent!
Thanks for the memories!

Related Trips
Oregon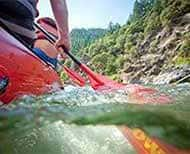 Rogue River Lodge to Lodge Trip
One of the most unique rafting vacations in the world. Astounding wildlife, scenery and historic river lodges each night.