6-7 Day Grand Canyon Vacation
Grand Canyon Rafting-best Adventure Vacation We've Ever Taken!
Frank and Robin M. - MD, USA | September 24, 2019
From the bus to Boulder City, the flight to Marble Canyon, the seven days of pure peace, calm and adrenaline rushes, outstanding guides, excellent food, sleeping on a cot under the star- and moon-lit evenings, the wonderful camaraderie, breathtaking helicopter flight, and to finally the flight back to Boulder City -- Top-notch service!
This is a time in your life which you will look back on as one of your very special memories! I can not wait to do it again!
Don't let anything stop you; money, fear, time. Nothing! Robin did this trip and has a pretty strong fear of deep (more than she can stand up in) water. And she loved it!
Thanks to a great team of guides and a professionally run outfit!!!

Related Trips
Grand Canyon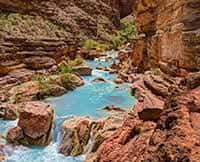 Grand Canyon 6-7 Day Vacation
A unforgettable journey of 188 miles from Lake Powell to Lava Falls.