6-7 Day Grand Canyon Vacation
The Emerald Mile
Douglas A. - NY, USA | October 4, 2021
Dear Friends and family,
The event I am about to reveal to you CAN NOT be explained away as coincidence. It is spiritual … and there is no better place to connect with God than the Grand Canyon.
A good friend of mine suggested I read a book titled the Emerald Mile prior to going to the Grand Canyon …I did that.
I sent an email to my party promising to find the "Emerald Mile" and to visit the grave of famous river guide Kenton Grua.
Ok …so call me a romantic.
When my wife and I arrived in Flagstaff we went to "Oars Grand Canyon Dories". And sure enough …hanging from the ceiling…retired …the "Emerald Mile!"
Homage to Emerald Mile paid!
On to finding Kenton Grua's grave.
According to his obituary he is buried in Flagstaff.
Kit and I checked both Flagstaff cemeteries and Kenton Grua was not buried in either location. ☹ So we gave up.
Three days later as we approached the Redwall Cavern ….
I noticed a Dory painted in the colors of the Emerald mile. I was further interested when the group pulled up on the beach.
The boat was named "Bears Ears".
I decided to go over to the Dory and talk to the guide. We small talked for a while and I learned he was working for Oar's Grand Canyon Dory's. So I asked him if he knew Kenton Grua. He answered that he had been a good friend of Grua.
NOW THIS IS WHEN THINGS GET SPIRITUAL!
I told the guide my story…how Tom had given me the book … and how Kit and I had gone to Oar's Dories to see the Emerald Mile.
I also told him that I had intended to pay my respects at Grua's grave …but could not find it. I wondered if he knew where Grua's grave was.
The guide, his back to the river, looked me in the eye. I sensed he was welling up under is sunglasses.
He then said, "I was here for the memorial service and his cremated remains were spread here." …. And he motioned, with his head, towards the river.
I had wanted to pay my respects to Kenton Grua and had resolved my self that I would not. And then God gave me a sign. Instead of finding Kenton ... he found me... on the Colorado River in the Redwall Cavern.
I was listening ..and I give thanks to Him for helping me fulfill my desire to pay respect to Kenton Grua.
Sincerely,
Doug Arnold
First, you cup a hand in the river and run the water over the back of your neck and face to reduce the cold shock of what's coming. Then you spit into your palms and twirl your oar blades to confirm that they're rotating smoothly in the locks. Finally, you settle into silence and begin talking yourself into a mental space where you prepare for the threshold moment—the point where the world drops away, the jitters subside, and a cool resolve seizes the tissues of your chest and belly.

Related Trips
Grand Canyon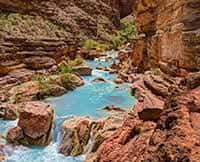 Grand Canyon 6-7 Day Vacation
A unforgettable journey of 188 miles from Lake Powell to Lava Falls.
Grand Canyon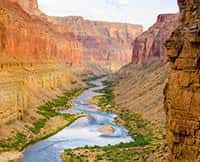 Grand Canyon Rafting Trips
Experience a 3 to 7 day expedition filled with whitewater excitement, spectacular waterfalls waterfalls and starry nights.