Cataract Canyon 4-Day Trip
This Cataract Canyon Expedition Was Excellent!
Keith M. - AZ, United States | June 4, 2023
Great trip with great friends, amazing hikes, beautiful scenery, relaxing, exciting, relaxing.
My second time with Western River, did 6 day Grand Canyon 27 years ago. Great experience, the guides were fun, helpful, interesting, and professional. We had a group of 12 with mostly first-timers and they all were completely amazed with their experience.
Rafting is always very fun. Rafting on the Colorado River is another level. Rafting with Western River is insurance that you will have a fabulous time. There are not many if any experiences more enjoyable to me.

Related Trips
Utah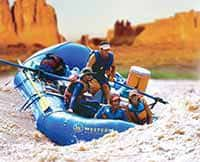 Cataract Canyon 4 Day Trip
Experience 4 Days through the heart of Canyonlands National Park.