Western's ​COVID-19 Mitigation & Operations Plan is in effect.
The Fantastic Women Guides
Rocky . - Florida, USA | August 2, 2020
These three women (Kelsey, Paco and Riley) represented nearly half of our trip's guides and they were strong and fun and a great example for young women everywhere. Each guide led her own raft and they met the challenges with excellence, humor and support. Well Done, Ladies!
Cataract Canyon 4-Day Trip

Related Trips
Utah
Cataract Canyon 4 Day Trip
Experience 4 Days through the heart of Canyonlands National Park.
Utah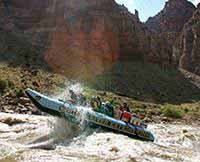 Cataract Canyon Express
Raft the 100 miles of Cataract Canyon in just 2 Days!