3-Day Grand Canyon River Trip
The Moon Rises High to Illuminate the Grand Canyon and River.
Kathy . - TN, USA | July 21, 2019
We booked our trip a year in advance. It was a long year waiting for the date to arrive. We arrived in Vegas a day early to the heat of July. It was great to get out of the humid air of TN. We had one night's rest in a hotel. I recommend showering the night before or get up early enough to shower that morning in warm, running water.
Trip day begins with a sack breakfast and a coach bus to Boulder City Airport. We had a bit of a wait there for our plane (a twin Otter) ride to Whitmore International Airport nestled in the canyon. On the flight we saw great views of Lake Mead, the Hoover Damn, the Colorado River and the Grand Canyon. This was followed up with a short bus ride to Bar 10 where we would catch our helicopter ride to the launch site. It was all exciting. Do not get in a hurry. The guides and pilots have there times set perfectly and know exactly where they need to be and when. It was like watching a fine tuned clock. Perfection. At the launch site, you prepare your trip bag and waterproof day bag. Have fun and mingle with your raft mates. You will be spending 3 days and 2 nights with them. Finally, we launch and begin the voyage down the river. The views are breath-taking and the water is cold. The first day on the river ended sooner than expected but as I said earlier, the guides know exactly where to be and when to be there. (If you are on the 3 day trip, remember that your guides have already been out for 6 days.) Just breathe and enjoy the experience. I recommend setting up your tent in case of rain but sleep under the open sky, especially in the summer months. (FYI - The cots have wingnuts on the side of the legs that help adjust the tension of the mesh cloth.) Embrace the coolness of the water. The bone-chilling, take your breathe away cold only lasts a few minutes. I do not want to spoil your trip so I will end with this. The guides are great (Emily, Lat, Evan, Steven). The food is good. (Take some nuts or granola bars if you need to eat off schedule.) The views wondrous. (Keep your camera/phone safe) Make friends and embrace the experience. ~kc

Related Trips
Grand Canyon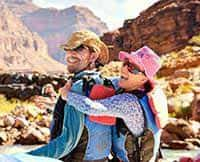 3 Day Grand Canyon River Trip
Raft 100 miles on the Colorado River through Grand Canyon.