6-7 Day Grand Canyon Vacation
A True Life Changing Experience.
Rick & Layne C. - Florida, USA | June 26, 2023
Never before in our lives have we experienced a vacation quite like this one! From the initial communications, through the coach pickup, the plane ride into the canyon, rafting, whitewater, hiking excursions, wildlife sightings, sleeping arrangements, meals, GUIDES 🥳, helicopter ride out of the canyon to Bar10 Ranch, and plane/bus back to our hotel…it was AMAZING! No words can begin to describe this experience! For the adventurous soul…it's a MUST DO! Worth every penny!!

Mickie and Matt; Skinny and Sara are the best hosts/guides/storytellers/captains you could ask for!! We made new lifelong friends and we will treasure this experience and be talking about it…for the rest of our lives!

Related Trips
Grand Canyon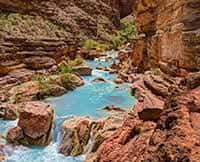 Grand Canyon 6-7 Day Vacation
A unforgettable journey of 188 miles from Lake Powell to Lava Falls.
Grand Canyon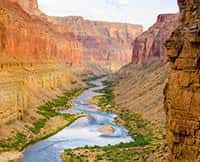 Grand Canyon Rafting Trips
Experience a 3 to 7 day expedition filled with whitewater excitement, spectacular waterfalls waterfalls and starry nights.