Hells Canyon Rafting Trip
The Hells Canyon Rafting Trip Was Spectacular!
Christina . - TX, USA | September 5, 2019
The trip was incredible! The scenic views are postcard perfection. Our guides worked tirelessly to provide a five star experience - great food, knowledgeable, friendly. Kudos to Pella, Connie, Bethany and Will for making our trip one my family will never forget! This Hells Canyon Rafting trip was like rafting and overnighting in a zoo for 5 days. Each day we rafted, we never knew what type of wildlife we would see, to bald eagles soaring over the river, big horned sheep hanging out on rocks, cinnamon bears taking a dip in the river to cool off and lastly sleeping under millions of stars! Absolutely spectacular! By far the best rafting trip I've ever experienced. We are already talking about the Middle Fork Salmon trip next year!

Related Trips
Idaho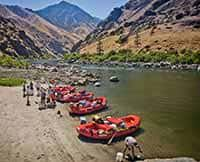 Hells Canyon Rafting Trip
The deepest river gorge in North America and some of the largest whitewater rapids in the Pacific Northwest.