6-7 Day Grand Canyon Vacation
Adventure of a Lifetime – Grand Canyon Rafting
John . - AL, USA | September 18, 2019
Trip of a lifetime …… Mother Natures wonders laid out before you in this wonderful adventure! This was a totally awesome trip. There is no way to describe viewing the Grand Canyon from the bottom up. We have visited both the north rim and the south rim previously and though the view was great in is in no way the total picture. Our guides graciously attended to all our needs in spectacular fashion and our thanks goes out to Newty, Andy, Scotty, Emily and Piper who at all times made us feel like family. Our heartfelt thanks to all of you!! Our guides extensive knowledge of both the geology and archaeology of the region made for a tremendous knowledge boost. All of the hikes were extremely interesting and the views from those were stunning. I have to admit we were pampered beyond a shadow of a doubt. The food was outstanding and the cowboy coffee was excellent. Besides the scenery we also saw the wildlife from the area including California Condors, ospreys, blue herons, red tail hawks, big horn sheep, ring tailed cats and just for a little excitement toss in a rattlesnake and scorpions!!! Toss in some excellent musical entertainment and you have a trip of a lifetime. Take our advice....don't wait JUST DO IT !!
John & Donna

Related Trips
Grand Canyon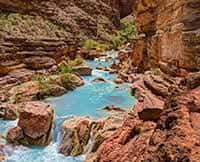 Grand Canyon 6-7 Day Vacation
A unforgettable journey of 188 miles from Lake Powell to Lava Falls.