6-7 Day Grand Canyon Vacation
Don't Hesitate on This Grand Canyon Rafting Trip
Bethany B. - OK, United States | September 15, 2022
We booked a father/daughter bucket list trip for 6day/5 nights rafting the Grand Canyon. We had looked forward to this for over a year and finding out 24 hours prior that a heat dome was to set in making us a bit nervous. We are experienced campers but heat ranges of 107-114 can be scary.
Western River guides went above and beyond to make this trip fantastic! Yes, it was hot but they kept everyone comfortable, well fed, hydrated, and genuinely entertained by the canyon's beauty. The food, service, and adventure were a much-needed escape from city life. Don't hesitate on this trip. . . Go!

Related Trips
Grand Canyon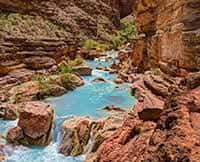 Grand Canyon 6-7 Day Vacation
A unforgettable journey of 188 miles from Lake Powell to Lava Falls.
Grand Canyon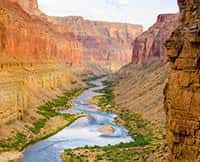 Grand Canyon Rafting Trips
Experience a 3 to 7 day expedition filled with whitewater excitement, spectacular waterfalls waterfalls and starry nights.