6-7 Day Grand Canyon Vacation
This Grand Canyon Trip Was an Amazing Experience
Sonia . - WA, USA | September 23, 2016
Our trip was awesome! Western River Expeditions gave us a trip to remember. The level of everything from the rafts, guides, accommodations, food, information on the Grand Canyon, and skill of navigating the rapids, was top notch.
I found the guides to be amazing in all of the many "hats that they wore". The food was absolutely delicious, still in awe of how they pulled that off. The Grand Canyon was such a wonderful place to spend our 7 days. The weather was exceptional-best week of the summer, we were told!!
I loved the whole experience from the van ride from Vegas to the helicopter and plane ride out of the canyon.
Thank you to all of those who made our trip possible, as well as those amazing folks that we shared our week with on the rafts.

Related Trips
Grand Canyon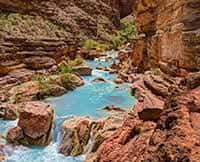 Grand Canyon 6-7 Day Vacation
A unforgettable journey of 188 miles from Lake Powell to Lava Falls.