4-Day Grand Canyon Tour
Top Notch Grand Canyon Rafting Vacation!
Stacy K. - Massachusetts, United States of America | September 8, 2022
From the moment we were picked up at the hotel until the final drop-off, there wasn't ONE detail that Western River Expeditions overlooked. Starting with the experience of a small plane, to the Bar 10 Ranch (which deserves its own 5-star rating), to the helicopter ride - it was a surreal way to start our adventure. Upon arrival at the riverside, we lucked out by getting the BEST Guides! Scott, Lou, and Becca were unbelievable - their experience, knowledge, stories, willingness to engage the rafters, etc. made the 3 days on the river so enjoyable and just plain exciting. Being able to learn about the Canyon, the rock structures, and small little details; and with such enthusiasm from Lou - she could have her own TV Reality show and she would be a hit! And boy did those guides work - every day, every stop, every meal break they were right on top of making sure to keep things moving and that we were well fed with delicious food. No one expected shrimp cocktails or steak as a meal but they made it happen.
Now - you're probably thinking what were the negatives? There were 2 - the SNORING from other campers sounded like a symphony (absolutely said in jest but it was remarkable how many rafters snored) and the trip was too short. It was so much fun that I would definitely recommend taking the longer 6 or 7-day trip instead of the 3 or 4-day trip. We signed up for the 4 day trip since it was our first time rafting; had I known how much I would enjoy the experience, I would have definitely gone for longer.
Kudo's and thanks to Scott, Lou, and Becca for their efforts; to Western River Expeditions for their planning and overall experience, to the Bar 10 Ranch staff for starting the western trip out with lots of fun activities, and to the other rafters on our trip who truly made it one of the best trips.

Related Trips
Grand Canyon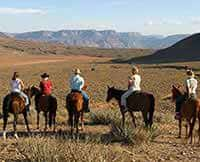 Grand Canyon 4 Day Tour
Combine your Grand Canyon rafting adventure with a day and night at a working cattle ranch.
Grand Canyon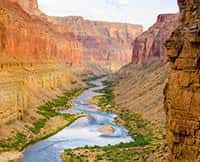 Grand Canyon Rafting Trips
Experience a 3 to 7 day expedition filled with whitewater excitement, spectacular waterfalls waterfalls and starry nights.