4-Day Grand Canyon Tour
Grand Canyon Rafting – Totally Amazing!
Jeannie . - KS, USA | August 9, 2019
I went into this Grand Canyon Rafting trip with much apprehension but quickly learned that I wasn't going to fall off the raft or freeze in the cold water...in fact the water was a welcome blast to escape the extreme heat! The guides...Ben, Andy, Kelly and Steph...were very knowledgable and experienced, always offered a smile and a helping hand. Meals were a delight, still wonder how they prepared such things as shrimp cocktail! We started this trip with a raft of strangers but quickly became a family of adventurers. Seeing the canyon from the river gave a totally new meaning to the word "Grand"! I'm so grateful for the opportunity to experience this gift of Mother Earth and will be even more determined to help preserve her natural bounty.

Related Trips
Grand Canyon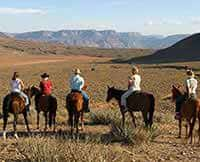 Grand Canyon 4 Day Tour
Combine your Grand Canyon rafting adventure with a day and night at a working cattle ranch.