6-7 Day Grand Canyon Vacation
Tremendous Grand Canyon Experience
DAVE . - WA, USA | September 25, 2017
The trip was everything that I expected AND MORE!!! LAT and his team were OVER THE TOP. The
equipment and facilities were great. The GRAND CANYON from the bottom is so much more impressive
than it is from either Rim. That so much was formed over so many million years is so totally mind
boggling.
The River Guides were so proficient and increased the the overall satisfaction of the experience. I can
not say enough about them or give them the credit that they deserve. Besides informing us of the many
wonders of the canyon, they also told us about the many histories of the guides from the past and the trials
and tribulations that they had experienced while learning the RIVER.
The meals and the preparation were almost gourmet. There was plenty to eat and well prepared,
especially considering that they had packed everything with NO chance to stop at a store to pick-up
something that might have been forgotten. GREAT PLANNING AND PREPARATION!!
Thanks to: LAT, STEPH ,LUTKE,& JOE.

Related Trips
Grand Canyon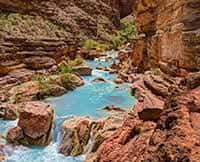 Grand Canyon 6-7 Day Vacation
A unforgettable journey of 188 miles from Lake Powell to Lava Falls.